The Fischell Department of Bioengineering at the University of Maryland presents:
THE 2013 FISCHELL FESTIVAL:
A Celebration of Bioengineering's Potential to Improve Life for Millions of People
Thursday, October 24, 2013
1:00 p.m. — 6:00 p.m.
Jeong H. Kim Engineering Building
University of Maryland, College Park
See photos, read reviews and watch presentations from past Fischell Festivals:
2013 | 2012 | 2011 | 2010 | 2009 | 2008 | 2007

Thanks for helping us make the 2013 Fischell Festival a success!
About the Fischell Festival
Engineers play a crucial role in devising new technologies that enhance the capabilities of health care, improve our quality of life, and shape the future of human healthcare. Now in its seventh year, the Fischell Festival demonstrates how University of Maryland bioengineering faculty and students are joining forces with colleagues in the medical field to design the next generation of biomedical devices, drugs and vaccines, and advanced treatments of injuries and disease. Everyone is welcome–the Fest is open to the public and registration is complimentary.

Undergraduate and graduate students, alumni, faculty, research scientists, members of federal labs, and members of the biotech industry are invited to submit a research poster. Learn more »
Registration: The Festival is Part of Mpact Week!


The Fischell Festival is now part of the A. James Clark School of Engineering's Mpact Week, a series of signature events showcasing the best research from our faculty, students and colleagues. You'll find common themes throughout, such as entrepreneurship, robotics, and fearless ideas for improving millions lives.
Online registration and poster submission are now closed.
Agenda
Times are approximate. We'll be updating the schedule with additional information about speakers and topics as it becomes available. Please check back for the latest information!
Last updated 10/25/13.
11:30 a.m.
Poster exhibitors may check in and drop off their posters starting at 11:30.
12:30 p.m.
General guest check-in/registration begins.

1:00 p.m.– 1:15 p.m.

Welcome and Introduction of the 2013
Fischell Fellow
Dr. William E. Bentley
Robert E. Fischell Distinguished Professor and Chair
Fischell Department of Bioengineering
University of Maryland
with
Dr. Robert E. Fischell
John Goertz

Location: Kay Boardrooms, First Floor, Kim Building

1:15 p.m.—
2:00 p.m.

Keynote Address:
Medical Devices to Improve the Human Condition
Dr. Robert E. Fischell
Fischell Biomedical, LLC
Angel Medical Systems, Inc.
Neuropace, Inc.

A new medical device has been created as a drug-free alternative for the treatment of epilepsy, a disease that plagues millions of people around the world. In the U.S. alone, 2.3 million people suffer from epilepsy. This year, it is estimated that their treatment will cost $15 billion. In 1998, Dr. Robert E. Fischell founded Neuropace, Inc., with the goal of creating a cosmetically invisible, responsive neurostimulation implant that can be used to stop seizures before clinical symptoms occur.


Location: Kay Boardrooms, First Floor, Kim Building


2:00 p.m.—
2:45 p.m.

Emerging Bioimaging Technologies for Improving Organ Transplants
Dr. Peter Andrews
Professor
Biochemistry and Molecular and Cellular Biology Georgetown University
Dr. Yu Chen
Assistant Professor
Fischell Department of Bioengineering
University of Maryland
Dr. Jennifer E. Verbesey, M.D.
Assistant Professor
MedStar Georgetown Transplant Institute

The extent of acute tubular necrosis (ATN) in renal tubules may provide valuable prognostic data regarding post-transplant renal function of donor kidneys. We used a new, noninvasive, real-time imaging modality termed optical coherence tomography (OCT) to assess the degree of ATN in donor kidneys. OCT is similar to ultrasound, but uses echo delay of light, instead of sound, to produce images. It is safer than X-ray, less expensive than MRI, and gives higher resolution images than ultrasound. Consecutive living donor kidneys, removed laparoscopically, were imaged using a hand-held OCT probe while ex-vivo and in-situ following reimplantation in recipient. 4-5 layers of uriniferous tubules and glomeruli beneath the capsule were well visualized. Ex-vivo imaging provided a holistic evaluation. After revascularization, doppler OCT detected renal blood flow in addition to morphologic features. Post-transplant renal function (Cr) was monitored. Donor kidneys with patent tubule lumens both prior to and following revascularization had the best post-transplant renal function. When tubules appeared shrunken or lost due to ischemic damage to the lining cells (ATN), post-transplant function was not optimal. In the future, we will extend to animal studies and cadaveric organs, and increase our understanding of how this assay can help evaluate donors. OCT is an easy technique, and may provide important prognostic information when assessing donor kidneys in the future.

Location: Kay Boardrooms, First Floor, Kim Building


2:00 p.m.—
3:00 p.m.
Special Parallel Track for Invited High School and Undergraduate Students

This year, the Fischell Department of Bioengineering's student chapter of the Biomedical Engineering Society (BMES) will host a parallel program for invited students from area high schools.

Bioengineering: Industry Perspective
Benjamin I. Bernst

ein

, M.Sc.


Associate Scientist II
Drug Delivery & Device Development & Commercialization
MedImmune Inc.
and
Dr. Roberto DePaz
Chemical Engineer
Formulation Sciences
MedImmune Inc.

An overview of the biotech industry and Gaithersburg, MD-based MedImmune, with discussion of biopharmaceutical manufacturing, formulation development, and drug delivery systems.

Location: Room 1146, A.V. Williams Building
2:45 p.m.—
3:00 p.m.
Break
Location: Kim Building.


3:00 p.m.—
4:30 p.m.

Demonstrations of Biomedical Devices: Preventing and Healing Injuries; Use in Physical Therapy.

Location: Rotunda, First Floor, Kim Building

Rehabilitation Robotics: The Past, Present, and Future
Dr. Anindo Roy
Assistant Professor
Department of Neurology
University of Maryland School of Medicine; and
Robotics Engineer
Baltimore Veterans Affairs Medical Center

Gait and balance deficits limit functional mobility and contribute to more than 70% of stroke survivors sustaining a fall within six months in the first year. These disabling consequences of stroke not only limit participation in community life but also set the stage for a sedentary lifestyle that reinforces learned nonuse and can lead to further declines in mobility and balance functions. Advances in our understanding of neuroplasticity and motor learning post-stroke are now being leveraged with the use of robotics technology to enhance physical rehabilitation strategies and change the natural history of stroke recovery. In terms of clinical translation, the greatest advances have been made with the use of upper extremity (UE) robotics, which have been tested for efficacy in multi-site trials across the subacute and chronic phases of stroke. In contrast, the implementation of lower extremity (LE) robotics to promote locomotor re-learning through massed practice has been more recent and presents unique challenges by virtue of the complex dynamics of gait, including the coordination of both legs and the multi-segmental balance control inherent to upright locomotion. This talk will present the evolution of rehabilitation robotics–from its infancy to its present deployment in the clinic and success in promoting functional recovery in neurologically injured populations, as well as some future directions in which this exciting field is headed.

Big Impact: Development of a Novel Concussion Mitigation Device Utilizing Shear-Thickening Fluids
Dr. Kenneth Kiger
Professor
Department of Mechanical Engineering
University of Maryland

Over the past decade, the long-term risks posed by concussion in contact sports such as football have become increasingly apparent. Recent medical research has shown that this is due to large rotational accelerations caused by oblique impacts. Helmets are well designed to prevent blunt-force trauma to the skull, but they do little to mitigate rotational motions that pose a concussive risk. Our group has worked on developing devices that utilize the special properties of shear-thickening fluids to reduce rotational accelerations in such collisions. Our presentation will focus on the testing and design of these novel fluids to bring forward the development of a new class of sports safety device.

Demonstrations will be interspersed with:

Student/Postdoc Research Poster Presentations
Meet talented students and research associates, and learn more about their work.

Location: Innovation Hall of Fame, First Floor, Kim Building

Would you like to submit a poster? More Information »

4:30 p.m.— 5:00 p.m.

Whiting-Turner Lecture Reception

Location: Outside of the Kim Building Lecture Hall


5:00 p.m.— 6:00 p.m.

The Whiting-Turner Business and Entrepreneurial Lecture Series Presents:

"The da Vinci and Beyond: the Advancement of Surgical Robotics"
Dr. Simon DiMaio
Intuitive Surgical, Inc.

One-by-one, medical robots are crossing the chasm that lies between laboratory bench-top prototypes and commercial products. Despite significant regulatory and adoption barriers, highly complex robotic technologies such as the Accuray CyberKnife®, the Hansen Medical Sensei®, the Mako Surgical Rio®, the Intuitive Surgical da Vinci®, and others, are beginning to make clinical impact. Next-generation surgical systems are now on the horizon and the research community is already contemplating fantastic new technologies that will extend computer-assisted surgery even further.

In this talk, we will take a step back together to look at the origins of the da Vinci telerobotic system, its present capabilities, and limitations; its acceptance, as well as new technologies on the horizon, and how we might see such platforms evolve in the future. I will talk from the perspective of a researcher embedded in industry and will share some of the challenges that we have experienced in taking research concepts and prototypes toward product.

Learn more about Dr. DiMaio and this lecture »

Location: Kim Building Lecture Hall
Questions? Please e-mail us at fischellfestival@umd.edu.
Directions and Parking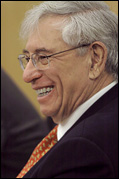 Through a $31 million gift, Robert E. Fischell and his sons Tim, Scott and David established the Fischell Department of Bioengineering and the Robert E. Fischell Institute for Biomedical Devices at the Clark School of Engineering.
"The greatest achievement that engineering can make is to improve the quality of life for millions of people. Our gift will help young engineers develop their ideas to improve healthcare for human beings throughout the world."
Robert E. Fischell, M.S. '53, Physics
Visit the Fischell Department of Bioengineering web site to learn more about the Fischell family and their contributions »