The Fischell Department of Bioengineering at the University of Maryland presents:
THE 2012 FISCHELL FESTIVAL:
A Celebration of Bioengineering's Potential to Improve Life for Millions of People
Thursday, October 18, 2012
12:45 p.m. — 6:00 p.m.
Jeong H. Kim Engineering Building
University of Maryland, College Park
Directions and Parking Information »

Were you unable to attend the Fischell Festival? Want to read about, see photos from, or watch video from the event? Visit the 2012 Fischell Festival Recap Page »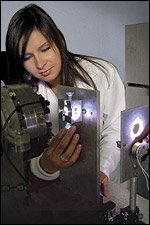 Engineers play a crucial role in devising new technologies to expand and enhance the capabilities of physicians, dentists, pharmacists and other health care providers—and ultimately to improve life for people around the world. To learn what the future holds in bioengineering and biomedical devices, and how engineers and healthcare providers can work together to achieve that future, please join us at the Jeong H. Kim Engineering Building on Thursday, October 18 for the 2012 Fischell Festival. Registration is complimentary and lunch will be provided.

If you are a member of the media and would like to cover the event, please contact Faye Levine at flevine@umd.edu.

Agenda
Times are approximate and subject to change. We'll be updating the schedule with additional information about speakers and topics as it becomes available. Please check back for the latest information!
UPDATE: Unfortunately, Dr. Richard Gray (USFDA) will be unable to attend. Times, including the start time, have slightly changed.
Last updated 10/16/12.
1:00 p.m.– 1:15 p.m.

Welcome and Introduction of the 2012 Fischell Fellow
William E. Bentley (Learn more about Dr. Bentley »)
Robert E. Fischell Distinguished Professor and Chair
Fischell Department of Bioengineering
University of Maryland
with
Robert E. Fischell
Mina Choi
Did you miss it? Watch the webcast »

Location: Kay Boardrooms, First Floor, Kim Building

1:15 p.m.—
2:00 p.m.

Keynote Address
"Training for the Real World by Working in the Real World"
Elliot R. McVeigh
Massey Professor and Director
Department of Biomedical Engineering
Johns Hopkins University School of Medicine
Learn more about Dr. McVeigh »
Did you miss it? Watch the webcast »

Location: Kay Boardrooms, First Floor, Kim Building

Abstract forthcoming.


2:00 p.m.—
2:40 p.m.

"Designing Nanomedicines to Overcome Physiological Barriers"
Silvia Muro
Associate Professor
Fischell Department of Bioengineering
Institute for Bioscience and Biotechnology Research
University of Maryland
Learn more about Dr. Muro »
Did you miss it? Watch the webcast »

Location: Kay Boardrooms, First Floor, Kim Building

Apart from their activity, many factors govern the efficacy of therapeutic agents, including solubility in body fluids, circulation half-life, clearance, degradation, etc. Nano-scale drug delivery systems can be designed to modify these parameters and enhance the therapeutic efficacy of agents than otherwise would render suboptimal effects. Yet, still when these features are improved, a key requirement to achieving an efficient therapeutic outcome is the transport of drugs to sites of the body where their action is needed. Our laboratory is focusing on this aspect by targeting drug delivery systems to markers expressed on the surface of tissues and cells requiring clinical intervention. Addressing drug carriers to cell receptors involved in transport of substances further facilitates intracellular uptake, where drugs can access their site of action within cells. Furthermore, we are developing means to transport nanomedicines across cellular barriers in the body (e.g., from the gastrointestinal lumen to the blood or between the circulation and tissues), which currently represents one of the greatest challenges to success of nanomedicine technologies. These approaches are being optimized through mechanistic studies that aim to decipher key parameters governing the efficacy of targeting and transport of nanomedicines, including those intrinsic to the physiological system itself and those pertinent to carrier design.

Funded by: NIH R01-HL98416, SAIC 11XS178, and AHA 09BGIA2450014.

2:40 p.m.—
2:50 p.m.

Break

2:50 p.m.—
3:30 p.m.

"Quantitative Imaging and Prediction of Cell State Changes"
Anne L. Plant
Chief, Biosystems and Biomaterials Division
National Institute of Standards and Technology
Learn more about Dr. Plant »
Did you miss it? Watch the webcast »

Location: Kay Boardrooms, First Floor, Kim Building

Microscopic imaging is a powerful tool for studying cell biology, particularly when care is taken to be quantitative. While gene expression analysis, proteomics, and other bioanalytical tools have provided critical understanding of biology, these kinds of data typically represent an aggregate response from large numbers of cells. In contrast, imaging of a population of living cells can provide a window on the variations in intracellular processes in individuals that are genetically identical. These variations present unique information that can be mined to understand the stochastic nature of intracellular events, and help to predict how populations can change over time, such as during the process of differentiation. By examining temporal fluctuations in promoter activity in individual cells, and coupling these data with steady state data over the entire population, we are able to predict the time required for cells to explore their potential landscape of gene expression.

3:30 p.m.—
4:30 p.m.

Student/Postdoc Research Poster Presentations
Meet talented students and research associates, and learn more about their work.

Location: Innovation Hall of Fame, First Floor, Kim Building

Would you like to submit a poster? More Information »

4:30 p.m.— 5:00 p.m.

Whiting-Turner Lecture Reception

Location: Outside of the Kim Building Lecture Hall


5:00 p.m.— 6:00 p.m.

The Whiting-Turner Business and Entrepreneurial Lecture Series presents:

"The Plight of the Innovator - How to Get Out of It"
Thomas J. Fogarty
Inventor of the Balloon Catheter
Professor of Surgery, Stanford Univ. School of Medicine
Fogarty Engineering
Fogarty Institute for Innovation, El Camino Hospital
Learn more about Dr. Fogarty and this lecture »
Did you miss it? Watch the webcast.

Location: Kim Building Lecture Hall

The field of medicine is not always friendly to innovation. The Hippocratic Oath states, "Do no harm," and so we teach, particularly in surgery, "Do the same things, the same way, to the same people." The "standard of care" in the legal arena is another factor weighing against innovation; if you do not adhere to the standard of care and your patient develops a complication, you will likely be sued and lose the suit. However, while consistently applying proven approaches is important, and standards have their place, there are significant differences among patients that we must recognize and treat, and new technologies whose promise we must explore. This is where innovation comes in. Innovation means that the new must displace the old—not only old technologies, old concepts and old relationships, but old perspectives. To displace the old, the new must prevail or we must make the old new again. This is the plight of the innovator.
Questions? Please e-mail us at fischellfestival@umd.edu.
Directions and Parking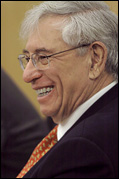 Through a $31 million gift, Robert E. Fischell and his sons Tim, Scott and David established the Fischell Department of Bioengineering and the Robert E. Fischell Institute for Biomedical Devices at the Clark School of Engineering.
"The greatest achievement that engineering can make is to improve the quality of life for millions of people. Our gift will help young engineers develop their ideas to improve healthcare for human beings throughout the world."
Robert E. Fischell, M.S. '53, Physics
Visit the Fischell Department of Bioengineering web site to learn more about the Fischell family and their contributions »