The Fischell Department of Bioengineering at the University of Maryland presents:
THE 2nd ANNUAL FISCHELL FESTIVAL:
A Celebration of Bioengineering's Potential to Improve Life for Millions of People
On April 10-11, 2008, the Fischell Department of Bioengineering held its second annual Fischell Festival. In addition to seminars delivered by industry experts, it featured a live medical procedure, a poster session, open labs, and the announcement of the Department's newest Fischell Fellow, Graduate Program in Bioengineering student Marc Dandin.
The highlight of the Festival was the formal dedication of the new 7,400 ft2 bioengineering wing added to The Jeong H. Kim Engineering Building, in a ceremony presided over by the Fischell Family, Clark School interim dean Herb Rabin, UMD Provost and former Clark School dean Nariman Farvardin, and professor and Chair William Bentley.
Contents:
Photos by Al Santos unless otherwise noted.
Festival Begins with Advice for Entrepreneurs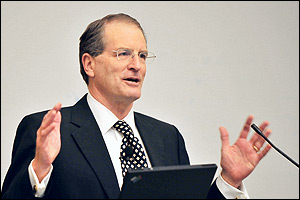 On the evening of the 10th, the Festival began with a Whiting-Turner Business and Entrepreneurial Lecture from Johns Hopkins University President William Brody (left), who spoke on "Perspectives on Innovation: The Top Ten Tips," in which he described lessons learnedóboth good and badófrom starting three companies of his own, noting that it is necessary to make mistakes in order to gain wisdom. His tips covered topics ranging from barriers to entry, to ideal market scenarios, to "inventor's paranoia" and Sutton's Law of Startups. Dr. Brody's lecture and slides can be viewed online.
Morning Sessions Highlight Biomedical Imaging and Related Devices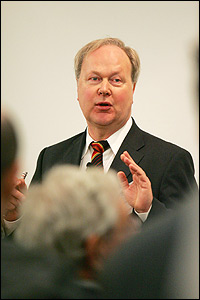 Heinrich Kolem (left), President and CEO, Siemens Medical Solutions, launched the morning sessions on April 11. His lecture, "Engineering Challenges in Product Development," outlined Siemens' Medical Solutions product development strategies. Using MRI systems as an example, he described the company's efforts to improve on a technology many thought had reached the limit of its development. The Siemens team chose to focus on the patient and user experience, new imaging applications, and the improvement of every component of their established systems.
Kolem told the audience that innovation required the right balance of freedom and structure, the right mix of people, and the right amount of both on- and off-site interaction between the customer and the research and development team. The Siemens strategy also included locking in their overall concept, maintaining a customer feedback database, detailed documentation, regular communication between different units of their large team, and working with marketing to make sure the product was correctly promoted. The end result was a new full-body imaging system that was four times faster and offered at a lower cost than earlier products.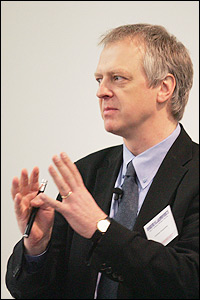 In his lecture titled "What's In An Image? Seeing Is Believing," Christoph Hergersberg (left), Global Technology Leader, Biosciences, GE Global Research, presented another large company's take on current healthcare imaging technologies. Rather than discussing the development of specific devices Hergersberg focused on what we are now able to do with the data we collect from various imaging processes, and how a biomedical image needs to be put into the greater context of a patient's history. GE Bioscience's goal, he explained, is to bring together diagnostic techniques that typically happen in parallel—the "grind and find" of biochemistry and the "seeing is believing" of microscopy and other imaging techniques—to come up with more productive and cost-effective ways to predict the behavior of disease. New means of presenting data, such as multiplexing a slide to simultaneously see different targets within the same sample, mapping diseases by their genetic rather than symptomatic relationships, virtual patient physiology, and molecular modeling help both doctors and patients understand the disease process as well as the risks and consequences of their actions.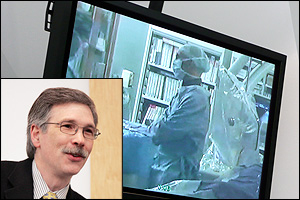 This year's live demonstration, streamcast from the University of Maryland School of Medicine, was performed by Patrick Malloy, M.D. (left), Director of Interventional Radiology, while in College Park, David Widlus, M.D. (inset), Associate Professor, Diagnostic Radiology and Nuclear Medicine, provided commentary on the procedure. Dr. Malloy's patient was suffering from hepatocellular carcinoma, a form of liver cancer often related to other liver diseases such as hepatitis and cirrhosis. In the first phase of treatment, an arteriogram showed the location of the tumor in the liver, and an oil-based contrast agent was injected through a catheter. While the substance does not collect in healthy liver cells, it collects in and around the tumor, making it even more visible to Dr. Malloy and his team. Next, a chemotherapy drug, emulsified in the same oil-based agent, was delivered directly to the tumor via another catheter. The combination blocks blood flow to the tumor, and "locks in" the pharmaceuticals.
| | |
| --- | --- |
| | |
| | |
The second phase of treatment was Radio-Frequency Ablation (RFA), a procedure in which a small device is brought directly to the tumor using a guide needle and ultrasound imaging. Once in place, tines at the tip of the device fans out like a tiny umbrella and begin to emit radiofrequency energy produced by an external generator (the patient is grounded), which is used to raise the temperature of the tumor to 55º C (131º F)—gradually, Malloy explained, "so we can 'cook' the tumor as opposed to 'searing' it." As the tumor cells die, they impede the current, which tells the surgical staff when the procedure is complete. RFA, like targeted drug delivery, is a localized treatment that little harm to the healthy cells around a tumor.
When asked by a member of the audience what engineers could do to create the ideal setup for future procedures, Malloy answered that his biggest wish is for a way to combine the best imaging device with the best treatment method. For example, at present MRI is best for imaging tumors, but cannot be used during RFA. Instead, surgeons must rely on a comparatively murky sonogram to guide their instruments.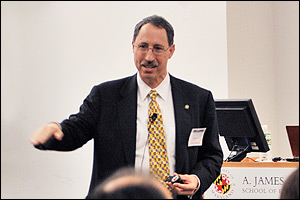 The final morning seminar was delivered by David Fischell (left), CEO, Angel Medical Systems, department benefactor and son of Robert E. Fischell. Fischell's lecture, titled "Doing Well By Doing Good," began with his family's history of creating medical devices that have improved or preserved the health of thousands of people, including rechargeable pacemakers, flexible medical stents, epilepsy brain pacers, and pulse magnetic stimulators that stop migraines. He highlighted a more recent invention, the AngelMed Guardian, an implantable sensor created by Angel Medical Systems and discussed at last year's Fischell Festival by his father. The AngelMed Guardian analyzes a patient's electrocardiogram (ECG, EKG), a record of the heart's electrical activity, comparing it to previous weeks and months of stored data, searching for changes and abnormalities. The sensor informs both the patient and medical personnel via wireless connections (for example, a pager or call to a cell phone) if a heart attack is imminent. The sensor was implanted in its first patient in 2006, and by September 2007 had saved its first life, correctly predicting a heart attack in woman whose warning symptoms were mild and transient enough to have otherwise gone unnoticed. Thirty-seven patients in North and South America have received the implant to date, and it is attributed with saving four of them. The Fischells believe the device has the potential to save thousands of at-risk patients by either preventing heart attacks or getting them immediate medical attention, compared to the current average of four and a half hours.
Fischell also spoke on his family's philosophy of designing a successful medical device: it must be good for patient, make more money for physicians, serve a large or growing population, be cost-effective, and involve collaboration between doctors and engineers.
"When a surgeon throws a tool against the wall in disgust," he said, "that's an opportunity!"
Announcement of the 2008 Fischell Fellow
At the conclusion of the morning's lectures, Fischell Department of Bioengineering Professor and Chair William Bentley joined Dr. Fischell to announce the winner of the 2008 Fischell Fellowship in Biomedical Engineering. Graduate Program in Bioengineering student Marc Dandin (left, with Dr. Fischell), who is co-advised by Department of Mechanical Engineering Associate Professor Elisabeth Smela and Department of Electrical and Computer Engineering Assistant Professor Pamela Abshire, was selected for his research on a fast, highly-sensitive biosensor that can detect food borne pathogens. (Photo: F. Levine.)
Learn more about Marc Dandin and his work »
Learn more about the Fellowship and current and past Fellows »
Dedication of New Bioengineering Wing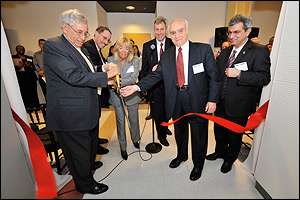 Guests gathered at the entrance the Kim Building's new bioengineering wing for a formal dedication and open house. The ceremony (left) was presided over by Robert E., Susan and David Fischell; Clark school interim dean Herb Rabin; UMD Provost and former Clark School dean Nariman Farvardin, and Fischell Department of Bioengineering Professor and Chair William Bentley.
The new 7400 ft2, $7.6 million wing houses staff offices and labs for current and future faculty. To date, two new labs have moved into the wing: the Biomaterials Engineering Laboratory, directed by Associate Professor Bruce Yu; and the Biophotonic Imaging Laboratory, directed by Assistant Professor Yu Chen.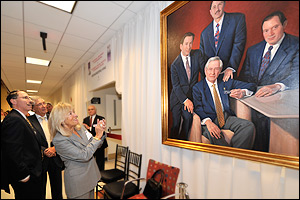 Jokingly reminiscing about "the most expensive lunch I've ever had," Fischell explained how a meeting with Farvardin in 2001 resulted in the creation of the Fischell Fellowship in Biomedical Engineering and, ultimately, the founding of the Fischell Department of Bioengineering, which officially opened its doors in 2006. Despite being only two years old, Fischell told the audience, he was thrilled to learn the department had the highest number of incoming freshmen among the engineering departments, and that these students had the highest average GPAs on campus.
The ceremony concluded with the unveiling of a portrait of Fischell and sons David, Scott, and Tim, which will hang in the bioengineering office suite; and a ribbon cutting at the entrance of the new wing. Guests were then invited to come in and explore the new facilities. (Above: David, Robert E. and Susan Fischell get their first look at the portrait.)
Learn More about Professor Chen »
Learn more about Professor Yu »
Diamondback coverage of the new wing and dedication ceremony »
New Bioengineering Wing Fact Sheet »
Biotechnology Career Fair
Almost a dozen companies and organizations were on hand to demonstrate products and discuss careers in bioengineering, biomedical engineering, and biotechnology with interested students, faculty and guests:
The Fischell Department of Bioengineering would like to thank the Fischell family, all of the Fischell Festival's speakers, participants, presenters and guests; and University of Maryland students, faculty and staff, for a wonderful and informative event. We hope to see you all next year!
See photos, read reviews and watch presentations from past Fischell Festivals:
2012 | 2011 | 2010 | 2009 | 2007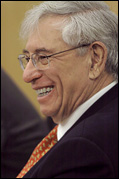 Through a $31 million gift, Robert E. Fischell and his sons Tim, Scott and David established the Fischell Department of Bioengineering and the Robert E. Fischell Institute for Biomedical Devices at the Clark School of Engineering.
"The greatest achievement that engineering can make is to improve the quality of life for millions of people. Our gift will help young engineers develop their ideas to improve healthcare for human beings throughout the world."
Robert E. Fischell, M.S. '53, Physics
Visit the Fischell Department of Bioengineering web site to learn more about the Fischell family and their contributions »