The Fischell Department of Bioengineering at the University of Maryland presents:
THE 2013 FISCHELL FESTIVAL:
A Celebration of Bioengineering's Potential to Improve Life for Millions of People
On October 24, 2013, the Fischell Department of Bioengineering (BioE) held its seventh Fischell Festival, which highlighted how recent advances in biomedical engineering are enabling doctors, surgeons and therapists to provide better treatment options for their patients.
For the first time, the department's student chapter of the Biomedical Engineering Society (BMES) was pleased to host a special, undergraduate-oriented parallel talk about careers in the biotechnology industry by MedImmune scientists Benjamin I. Bernstein and Dr. Roberto DePaz. The pair also discussed their work for MedImmune, taking the audience through the fundamentals of the drug development process.
Return to the Fischell Festival homepage »

Contents:
Welcome and Fischell Fellow Announcement
BioE Professor and Chair William E. Bentley opened the Fischell Festival by updating the audience on the University of Maryland's FDA-supported partnerships, the Center of Excellence in Regulatory Science and Innovation and the new National Capital Consortium for Pediatric Device Innovation. He congratulated BioE Professor and Associate Chair John P. Fisher on his appointment as the first Fischell Family Distinguished Professor in Bioengineering, and revealed plans for a new bioengineering building on the College Park Campus.
Bentley also announced that this year, the department received $8 million in research funding (a 30% increase over the last fiscal year), and now serves over 400 undergraduate students. 2013 also marks the first year the number of bioengineering alumni exceed the number of current students.
Bentley's welcome concluded with the introduction of the department's newest Fischell Fellow, first-year graduate student John Goertz. Goertz, who earned his B.S. in physics and cell biology from Seattle University, would like to develop low-cost, portable tools for infectious disease diagnostics in resource-poor areas.

Learn more about John Goertz and his work »
Learn more about the Fellowship and current and past Fellows »
Watch Dr. Bentley's introduction and John Goertz's comments on his goals (14:19):

Keynote Address: Robert E. Fischell: "Medical Devices to Improve the Human Condition"
Dr. Robert E. Fischell has invented numerous biomedical devices over the course of his career. In his Keynote Address, he brought guests up to date on the status of two devices working their way through the arduous process of clinical trials and gaining FDA approval.
In 1998, Fischell launched a company called Neuropace to develop and market a cranial implant for the treatment of epilepsy, offering those living with the disorder an alternative to drugs that often have significant side effects. The device, which activates when it detects brain activity indicative of an imminent seizure, uses electrical stimulation to stop it before symptoms appear. In clinical trials, the device was implanted in a few hundred patients. After two months, half were turned on, and eventually all were activated. All patients improved when their implants were active, and did not suffer cosmetic or physical side effects.
Fischell, however, is still working with the FDA to gain approval. On February 22, 2013, a panel of thirteen FDA-appointed experts reported that all agreed the device was safe, 12 of 13 agreed it was effective, and 11 recommended the device be approved at that time. Fischell was asked to conduct further testing, now completed, and hopes to see the device approved some time in November 2013.
The second example was a handheld device that uses transcranial magnetic stimulation to treat migraine headaches. Like the Neuropace implant, it provides an alternative to patients who experience serious side effects from the drugs used to treat their condition, or who cannot take them all due to other medical conditions. In trials, the device has been shown to be 99% effective on mild to moderate migraine pain, with 95% experiencing relief for periods of up to 48 hours. The FDA requested that the device also be effective against other migraine-related symptoms, such nausea and sensitivity to light and sound. Fischell reported an 88% success rate (a result adversely affected by the fact that most of the patients in the trial did not experience nausea with their migraines), but this was not enough for FDA approval, despite backing from neurologists. In March 2013 he asked the device to be reconsidered on the basis it was not inferior to no treatment at all. As of the 2013 Fischell Festival, he is awaiting a response. The device is slated to be approved and available by prescription in the United Kingdom in January 2014.

Watch Dr. Fischell's Keynote Address, including an introduction by Dr. Bentley and questions from the audience (39:46):
"Emerging Bioimaging Technologies for Improving Organ Transplants"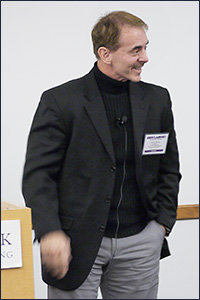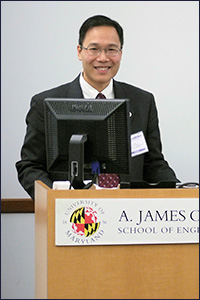 The Festival's next presentation demonstrated the power of collaboration among life scientists, engineers, and doctors to improve the odds for patients facing life-threatening conditions.
Transplant surgeon Jennifer E. Verbesey began the joint presentation by explaining kidney function and disease, the donor kidney allocation process, and the key steps of a transplant. Kidney transplants, she said, are more successful, provide a better quality of life, and are less expensive in the long run than dialysis. Unfortunately, no matter how much data about the donor and his or her kidney are provided, there is always a risk.
"It's my job to look at all the factors and decide whether [a] kidney is transplantable or not," she explained. "The problem is this is a very imperfect science. We won't know if we made the right choice until years down the road." While she typically requests a tissue biopsy from the donor organ for a thorough examination, it doesn't paint a picture of the entire organ, and could be misleading. This is where scientists and bioengineers step in.
Professor Peter Andrews discussed how the main threat to a donor kidney before implantation is a loss of blood supply that could lead to acute tubular necrosis (ATN) after. ATN can be hard to distinguish from rejection.
"In present clinical practice, there really is no reliable test to determine the viability of donor kidneys and whether or not donor kidneys might exhibit ATN," he explained.
This may soon change. Professor Yu Chen has demonstrated that optical coherence tomography (OCT), an imaging system conceptually similar to ultrasound that creates its images from back-reflected light instead of sound, can be used to observe kidney function live and in realtime. Chen's development of OCT systems has allowed him to produce some of the first live micron-scale images of blood flow to and activity within the the kidney's tubules, the twisting passages that serve as its filters. Andrews, Chen and Verbesey have documented a correlation between the pre-transplant tubule appearance and post-transplant success.
Chen concluded the presentation by discussing the future direction of the team's work, including obtaining molecular and chemical information about donor kidneys using two-photon microscopy, using OCT to guide surgical tools, and combining OCT with magnetic resonance imaging (MRI) to offer surgeons simultaneous views of their patients at different scales.
Watch Drs. Verbesey, Andrews and Chen explain how they have joined forces to improve the success rate of kidney transplant surgery, and answer questions from the audience (53:53):
"Big Impact: Development of a Novel Concussion Mitigation Device Utilizing Shear-Thickening Fluids"
Over the past decade, the long-term risks posed by concussions received in contact sports, especially football, have become increasingly apparent. Helmets are well designed to prevent blunt-force trauma to the skull, but are not very effective protection against side impacts that generate the rotational acceleration that can lead to a concussion.
In 2012, a group of BioE seniors, mentored by Clark School Department of Mechanical Engineering Professor Kenneth Kiger and Dr. Robert E. Fischell, embarked on their final capstone design project. They sought to address the growing concern over the thousands of concussions suffered by football players each year by creating an enhancement for existing football equipment.
The device, which took the form of a shock absorber filled with a dilatant fluid (one that thickens under sheer strain, such as produced by the force of a tackle), was attached to a official Terps Riddell football helmet and shoulder pads worn by a boxing torso. Analysis of data obtained from front and side impact tests to the simulated player's head showed the device substantially reduced maximum acceleration, velocity, and displacement across the Z- and Y-axis. The simultaneous absorption and transfer of energy from the impact, and the decreased acceleration of the player's head and neck, should result in a dramatic reduction of concussions.
Since then, Kiger has continued the development of this and other devices that utilize the special properties of shear-thickening fluids to reduce rotational accelerations in sports-related collisions. Kiger's presentation–which also included contributions from students Dana Ehyaei, Kevin Li, Alek Williams, and Di Wu–focused on his group's testing and design of the novel dilatant fluids being utilized to advance the development of a new class of athletic safety devices.

"Rehabilitation Robotics: The Past, Present, and Future"
In his talk, Dr. Anindo Roy explained how engineers are combining neurology and robotics to create new and more effective physical therapy devices.
Roy focuses on patients with neurological injuries–particularly those resulting from a stroke–that have affected their gait, balance, or general mobility. Insufficient recovery leaves these patients vulnerable to falls, reduces their participation in daily activities, and reinforces non-use of affected limbs–all of which can lead to additional injuries and a decline in health.
Advances in our understanding of neuroplasticity–the brain's ability to recover and form new neural connections after an injury–have led Roy and his colleagues to design lower extremity robotics optimized to help patients re-learn how to walk.
"Implementation of lower extremity robotics to promote locomotor re-learning...presents unique challenges by virtue of the complex dynamics of gait, including the coordination of both legs and the multi-segmental balance control inherent to upright locomotion," he said.
Use of the devices is often paired with video games that both challenge patients to improve and allow therapists to track their progress. The robotics are also "smart," capable of sensing when they need to engage to help the patient, and when they should remain passive.

The Whiting-Turner Business and Entrepreneurial Lecture: "The da Vinci and Beyond: the Advancement of Surgical Robotics"
The Fischell Festival concluded with a Whiting-Turner Business and Entrepreneurial lecture delivered by Dr. Simon DiMaio of Intuitive Surgical, Inc., the company behind the da Vinci® telerobotic surgical system. (In 2009, da Vinci-enabled surgery was demonstrated at the Fischell Festival.)
The da Vinci system allows specially-trained surgeons to perform endoscopic surgery with up to four miniature robotic arms controlled from an external console. A tiny camera transmits 3D images to the console, giving the surgeon a clear view of surgery site and his or her tools. The da Vinci and other surgical robotics allow doctors to reduce risk, blood loss, pain and recovery time by operating through small incisions.
DiMaio reviewed the history of the da Vinci system, explained how it was developed and introduced to surgeons, and reviewed its current capabilities and limitations. He also discussed the financial and legal challenges Intuitive Surgical has faced along the way.
Watch Dr. DiMaio's lecture, which includes video of surgeons using the da Vinci system to operate and questions from the audience (01:20:51):
Read DiMaio's bio and abstract »

Thank You!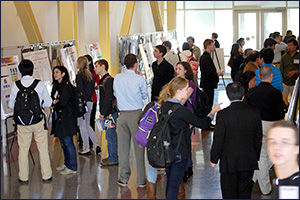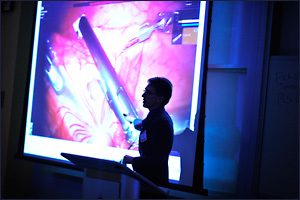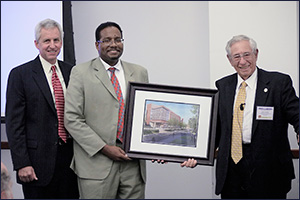 The Fischell Department of Bioengineering would like to thank the Fischell family; all of the Fischell Festival's speakers, guests, and volunteers; and University of Maryland students, faculty and staff, for a wonderful and informative event. We hope to see you all next year!
Return to the Fischell Festival homepage »
Were you unable to attend one of our previous Fischell Festivals?
See photos, read reviews and watch presentations from past Fischell Festivals:
2012 | 2011 | 2010 | 2009 | 2008 | 2007