The Fischell Department of Bioengineering at the University of Maryland presents:
THE 2010 FISCHELL FESTIVAL:
A Celebration of Bioengineering's Potential to Improve Life for Millions of People
On April 29, 2010, the Fischell Department of Bioengineering (BioE) held its fourth Fischell Festival, featuring a variety of presentations and activities, including guest speakers from the Center for Bioengineering Technology and the MedStar Institute for Innovation, entrepreneurial insights from a current and former Fischell Fellow, live video of a mitral valve repair surgery, the best of this year's senior design projects, a poster session, a career fair and information expo, and seminars. The event concluded with a Whiting-Turner Business and Entrepreneurial lecture presented by department namesake and benefactor Dr. Robert E. Fischell.
Contents:
Available Video Coverage:
(Videos will open in a new window or tab.)
Keynote Speaker: W. Jonathan Lederer
This year, we were pleased to welcome Dr. W. Jonathan Lederer, M.D., Ph.D., Professor and Interim Director of the Center for Biomedical Engineering and Technology (BioMET) at the University of Maryland Baltimore, as our Keynote speaker. Lederer's presentation, "Nanobiology Investigations in Living Single Heart Cells: Stretch- Activated Ca2+ Sparks and Arrhythmias," described his research group's efforts to develop new instruments for measuring and visualizing electrical signals originating from heart cells, for the purposes of understanding what happens during arrhythmias. They studied calcium signaling in individual heart cells. Localized calcium signals are called "sparks." Sparks build up throughout each heart cell, finally coalescing into a calcium "wave" that causes the cell to contract. If there are too many sparks or they are incorrectly distributed, abnormal contraction—an arrhythmia—occurs.
Lederer's group designed a patent-pending device that can hold and stretch an individual heart cell in different ways to measure the forces acting on it as the sparks are produced. They found that overstretched heart cells trigger "a huge spark reaction," which multiplied over thousands of cells fuse to form not just an electrical wave, but a "tsunami," causing the heart to contract erratically. This knowledge will help scientists and doctors identify the underlying problems that cause arrhythmias.
Fischell Fellows Share Their Experiences in Engineering Entrepreneurship
In his talk, "Building a Company as a Graduate Engineering Student: How the University of Maryland Makes it Possible and Why it Makes More Sense than Ever," Current Fischell Fellow Matthew Dowling, advised by Associate Professor Srinivasa Raghavan (Department of Chemical and Biomolecular Engineering), shared his adventures in entrepreneurship with the audience, explaining why the Clark School in particular was the perfect place to take the plunge. His company, Remedium Technologies, is developing sprays, foams, and bandages designed to stop heavy bleeding and treat chronic wounds more effectively.
"Only the marriage of engineering and business creates real solutions," said Dowling, who believes that engineers "are ripe to become entrepreneurs" because they already possess many of the right qualities and skills: passion, innovation, persistence, leadership, and a desire to learn. What they're often missing are the business skills, such as networking, fundraising, and writing successful business plans. At the Clark School, the Maryland Technology Enterprise Institute (Mtech) is available to give students and faculty an edge by providing them with mentorship, development, networking and venture capital programs. Dowling credits Mtech with playing a crucial role in his growth as an entrepreneur and with Remedium's continued success. The support and spirit of his Fischell Fellowship, he says, provided the inspiration.
Watch Mr. Dowling's presentation »
Former Fischell Fellow and alumnus Dr. Dan Janiak (Ph.D. '09) picked up where Dowling left off with his lecture, "A Venture Adventure," in which he offered a primer on the relationship between engineering entrepreneurs and venture capital companies. Like Dowling, he stressed the importance of the Fischell Fellowship in enabling him to pursue his scientific passions and Mtech in preparing him to interact with the venture capital industry. Turning a biotechnology product into a company, he explained, is often very difficult because of government regulations and approvals, so getting an education and experience in business while a student—especially by taking advantage of programs like Mtech's—is essential: "Your interest in entrepreneurship should not start when you start looking for a job," he said. "Understand that it's not about technology looking for a market, but the other way around."
Learn more about the Fellowship and current and past Fellows »

Live Mitral Valve Repair
After the morning speakers, the Kim Building's monitors and screen switched from slides to surgery as the audience was connected live to Dr. James S. Gammie, M.D., Associate Professor of Cardiac Surgery at University of Maryland Medical Center. That morning, Gammie was performing a mitral valve repair, an open heart surgery used to treat the narrowing or leaking of the inflow valve used to conduct blood from the left atrium to the left ventricle. If the mitral valve's flaps are weakened or damaged by age, a birth defect, or an infection, blood washes back into the lungs, forcing the heart to work harder and wear out sooner. In this case, Gammie repaired the valve by replacing its chordal apparatus, the elastic "heart strings" that support it, with GORE-TEX® sutures. To test the seal, a member of his team flowed saline solution through the valve, allowing Gammie to adjust the sutures as needed to obtain the perfect fit.
Watch the Mitral Valve Surgery »
Capstone Design Awards
Every year, seniors majoring in bioengineering participate in Capstone, a two-semester course in which teams of students utilize what they have learned throughout their undergraduate studies to address a human health-related problem by designing their own solutions, from concept to prototype product.
Mrs. Susan Fischell is the creator and sponsor of our annual Capstone Design Awards. In this competition, launched in 2009, the top three project teams as selected by a panel of judges win monetary prizes donated by Mrs. Fischell and are invited to present their work to the public at the Fischell Festival. The teams may also have the opportunity to have their inventions put on track for development at the Robert E. Fischell Institute for Biomedical Devices.
Our panel of judges included Professor Leigh Abts (College of Education/BioE), Brian Lipford (Partner and VP of Strategic Initiatives, Key Technologies Inc.), and Dr. Jafar Vossoughi (President, Biomed Research Foundation and affiliate faculty, BioE).
This year, thanks to a tie for first place, we were proud to present four winning teams and their projects:
Third Place:
Samet Group PocketDoc: Emergency Monitoring System
Team Members: Omar Bekdash, Dipankar Dutta, James Pan, James Reilman, and Dennis Truong. Mentors: Professor Art Johnson (BioE) and Dr. Ron Samet (UMB School of Medicine).
The PocketDoc is a portable device that supplements first response by transmitting SpO2 (saturation of peripheral oxygen in the blood) and heart rate information to EMTs before they arrive on the scene of a medical emergency, or to doctors before a patient reaches the hospital, saving time and lives in the process. The device, which is designed to be easy to use by people without medical training, can display this quantitative information in real-time on a smartphone by connecting to its serial port, then transmit the same data wirelessly to 911 dispatchers or medical personnel. It is also capable of storing a patient's medical history. The Samet Group envisions the device becoming as common as emergency defibrillators in high-traffic locations such as malls, airports, and military bases, and schools. The device could be offered as a "plug and play" product for consumer use, as well as in a professional version for more advanced data logging.
Second Place:
D.E.W.C.: Diagnostic Eletrophysiological (EP) Wireless Catheter
Team Members: Joe Davis, Farnoosh Farahi, Amanda Gravenhorst, Mads Matthiesen, and Tiffany Weston. Mentors: Dr. Amit Shah and Dr. Manish Shah (Washington Hospital Center) and Assistant Professor Ian White (BioE).
Arrhythmia, a condition in which the heart experiences abnormal contractions, is often treated with a surgical procedure called a catheter ablation. Two small, flexible tubes—catheters—are inserted into the chest. One, called the guide catheter, is used by the surgeon to visually navigate through the patient's heart. Radiofrequency energy, transmitted through the second, is used to destroy (ablate) the tiny amounts of heart muscle identified as the origin of the problem, allowing the heart to beat normally again. Currently, the diagnostic information the surgeon receives from the guide catheter is processed by a junction box tethered to the device. This complex system of controls and wires requires intensive setup and is difficult to use. The D.E.W.C. team designed a guide catheter that transmits the same information wirelessly. The signal is amplified, digitized, and sent to a data acquisition system that provides the surgeon with a real-time display. The new device could reduce human error, the surgery time by as much as 45 minutes, and the cost of the procedure by $1000.

First Place (TIE):
Magnetic Particle Steering by Active Control of Magnetic Fields for the Purpose of Drug Targeting
Team Members: Erik Li, John Lin, Chetan Parrija, Michael Tsai, and Jeffery Zhang. Mentors: Associate Professor Benjamin Shapiro (BioE) and Assistant Professor Silvia Muro (BioE).
Many patients receiving chemotherapy firor cancer become ill or die because of its side effects, a problem which has led doctors and scientists to explore how to accomplish more with fewer treatments. Magnetic drug delivery, in which magnetic fields are used to guide therapeutic magnetizable nanoparticles to specific regions of disease, is one possible solution. The Magnetic Particle Steering team worked on ways to improve the delivery of drug-carrying magnetic nanoparticles to deep tissue tumor sites. They developed an algorithm to model and predict the nanoparticles' behavior, a high spatial resolution imaging system capable of tracking them en route, and a biomimetic synthetic vascular system that simulates blood flow in the human body, which they used to test their ability to guide the nanoparticles through specific channels. The team demonstrated that their improved delivery system can result in up to four times more therapeutics reaching the site of tumor per treatment, which translates into less chemotherapy and fewer side effects for the patient.
First Place (TIE):
GluCoach: Smartphone Interfacing Glucose Meter and Application (SIGMA) for Diabetes Management
Team Members: Omar Ayyub, Andrew DeMaio, Katie Farhang, Nii Mante, and William Richbourg. Mentors: Dr. Michelle Magee (Washington Hospital Center) and Professor Yang Tao (BioE).
The GluCoach-SIGMA team used a smartphone and the Android operating system's software development kit to create a go-everywhere, easy-to-use device that enables diabetics to track their insulin, blood sugar, meals, exercise and more. Managing diabetes requires diabetics to stick to routines, plan meals, check their glucose levels, and administer insulin. The tracking of all of this information sometimes becomes burdensome, resulting in forgetfulness or mistakes. Noting that people almost never forget their cell phones, the GluCoach team designed a glucose meter capable of transmitting readings over Bluetooth to a smartphone installed with a suite of software designed to analyze the data, calculate insulin requirements, and help a person maintain a healthy lifestyle by keeping all the information they need at their fingertips.
Watch the Capstone Design Award Presentations »
Capstone presentations are part of the same video segment as the mitral valve surgery, and begin at approximately the 00:30:00 mark.
The Department would like to thank Mrs. Fischell for her generosity and vision in promoting and forwarding our students' work. We would also like to thank our judges for their time.
For more Information:
Afternoon Seminars
The Fischell Festival was pleased to host three seminar speakers who discussed a variety of bioengineering trends, current research, and related issues:
"The Story of Amalga in the Straits of Messina: Navigating Innovation between Scylla (Bad Design) & Charybdis (Failed Implementation)."
Mark Smith, M.D.
Director, MedStar Institute for Innovation


How do you navigate a project through rough waters? That was the question Dr. Mark Smith, M.D. hoped to answer in his talk. Smith, the Director of the MedStar Institute for Innovation, wanted to address another aspect of innovation: once the scientist has produced the product, how does he or she secure buy-in from the bio or medical community?

Smith presented a case study about Amalga, an information system for hospitals and other healthcare providers. When he was recruited to make the Washington Hospital Center's ER work more efficiently, he believed that application of new information technology was the key to improving clinical care. He described the design strategies he and his team used to create Amalga, release it to the ER, and eventually get the rest of the hospital on board. These included never forcing end users to adopt a technology, avoiding overdesign, liberating data from proprietary systems, working in a "protected sandbox," and having access to a discretionary budget, which provides leadership with the power to proceed and to make unexpected changes. "Fail early, often, and cheaply," he advised the audience, and, he added, remember that less is more: "Great ideas can be reduced to a bumper sticker."

To learn more about Dr. Smith's design principles, watch the full seminar online »

"Engineering the Public's Health: A Global Perspective"
Robert Gold, Professor and Dean, University of Maryland School of Public Health


While personalized medicine specially tailored for individual patients based on genetics, history, or other factors is a growing trend in the field of bioengineering, Professor and Dean of the School of Public Health Dr. Robert Gold urged the engineers not to forget about the impact their work can have at the community, national, or global scale.

"Why should engineers think about public health?" he asked the audience. "Because there is no human endeavor outside the realm of public health." Gold asked engineers to think about the biomedical needs that will result from threats to public health: disparities in health between the rich, poor, and minorities, the "new epidemic" of childhood obesity, changes in quality adjusted years of life, evolving definitions of family, preventable diseases, and more people seeking treatment for mental conditions.

Watch Dr. Gold's seminar online »
All afternoon presentations are part of the same video segment. Dr. Gold's seminar begins at approximately the 00:36:30 mark.


"Magnetic Drug Delivery: From Magnets that Can Push, to Simulations, to Precision Control"
Benjamin Shapiro
Associate Professor,
Fischell Department of Bioengineering
Joint, Institute for Systems Research


Associate Professor Benjamin Shapiro expanded on the research presented by his winning Capstone team by presenting an overview of the work conducted at his Control of Micro and Nano-Scale Systems Laboratory.

Shapiro described his research group's efforts to design better ways to magnetically manipulate nanoparticles introduced into the body to achieve clinical goals, particularly targeted drug delivery. They have used advanced numerical simulations to accurately predict in-vivo behavior of magnetic nanoparticles, which has allowed them to improve the design of magnetic drug delivery systems. Shapiro presented the results of an experiment in which a combination of magnets created push forces that delivered nanoparticles to the inner ear, enabling the targeting of disease sites that cannot otherwise be reached due to the blood/brain barrier. He also discussed the future of the emerging technology in the treatment of cancer, stressing the need for engineers, clinicians, and other specialists to work together to create optimal solutions.

Watch Dr. Shapiro's seminar online »
All afternoon presentations are part of the same video segment. Dr. Shapiro's seminar begins at approximately the 01:06:42 mark.
Biotechnology Career Fair and Information Expo
A dozen companies and organizations were on hand to demonstrate products and discuss careers in bioengineering, biomedical engineering, and biotechnology with interested students, faculty and guests:
The Fischell Department of Bioengineering would like to thank the Clark School's office of Engineering Co-op and Career Services for organizing the career fair and information expo, as well as all of the companies and organizations that participated.
Fischell Discusses Biomedical Engineering for Improved Health Care, Reduced Costs and More U.S. Jobs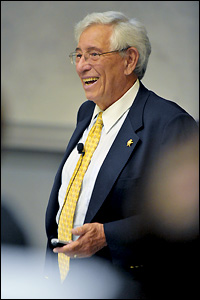 The Fischell Festival concluded with a Whiting-Turner Business and Entrepreneurial lecture delivered by Robert E. Fischell, chairman and president of Fischell Biomedical, LLC.
In his presentation, titled "Biomedical Engineering for Improved Health Care, Reduced Costs and More U.S. Jobs," Fischell discussed how biomedical engineers can create new medical devices that can decrease the cost for patient care while improving the care that those patients receive, and how their manufacture can both create jobs and offset medical costs, which are now rising faster than inflation.
Fischell gave some of his own inventions (currently in development and clinical trials) as examples: an implantable medical device that has the capability to essentially eliminate congestive heart failure, the single greatest medical expense category in the United States; a device to treat migraine headaches without the need for expensive drugs; and a more effective, longer-lasting arterial stent that cuts down on surgery time, post-operative complications, and the need to repeat procedures.
Watch Dr. Fischell's Whiting-Turner Lecture »
Thank You!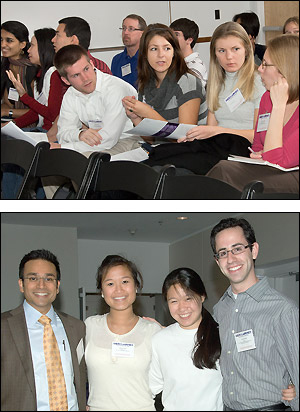 The Fischell Department of Bioengineering would like to thank the Fischell family, all of the Fischell Festival's speakers, participants, presenters and guests; and University of Maryland students, faculty and staff, for a wonderful and informative event. We hope to see you all next year!
Return to the Fischell Festival homepage »
Were you unable to attend one of our previous Fischell Festivals?
See photos, read reviews and watch presentations from past Fischell Festivals:
2012 | 2011 | 2009 | 2008 | 2007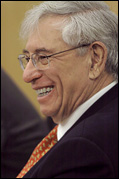 Through a $31 million gift, Robert E. Fischell and his sons Tim, Scott and David established the Fischell Department of Bioengineering and the Robert E. Fischell Institute for Biomedical Devices at the Clark School of Engineering.
"The greatest achievement that engineering can make is to improve the quality of life for millions of people. Our gift will help young engineers develop their ideas to improve healthcare for human beings throughout the world."
Robert E. Fischell, M.S. '53, Physics
Visit the Fischell Department of Bioengineering web site to learn more about the Fischell family and their contributions »